What to do with the Family this weekend in Round Rock?
Round Rock, located just outside of Austin, is a little town with big-city attractions. Because of its proximity to Austin, it's a popular stop along the route, but we're here to tell you that the city is a hidden treasure in its own right. When in Round Rock, take it easy and immerse yourself in calm rural living. This Texas city is jam-packed with lovely places to visit, from sprawling, well-kept parks to fascinating downtown attractions.
Austin is about 20 miles and a 30-minute drive south of Round Rock. As a weekend vacation, you can expect plenty of outdoor activities and their famed Round Rock Donuts. It also combines the finest of both worlds. It has a small-town charm while being a short drive from the big city.
According to Money magazine in 2008, Round Rock is a truly fantastic location and one of the country's most livable communities. Apartment Therapy even named it one of the Coolest Suburbs in America in 2019. So, if you fall in love with the town after completing this tour, no one will blame you if you decide to relocate here.
It's the ideal venue to keep you active without exhausting you. So plan your trip around the finest things to do in Round Rock, TX.
See the Round Rock Express at The Dell Diamond
(512) 255-2255; 3400 E Palm Valley Boulevard Round Rock, TX 78665
The Round Rock Express plays in The Dell Diamond, an 11,600-seat stadium in Austin, Texas. Baseball fans will undoubtedly appreciate games from the Round Rock Express's home stadium. After all, it's a chance to witness the minor league baseball team play. During your trip, pass the time by watching a baseball game.
The city is truly a sports fiesta, particularly with its support and love for the Round Rock Express.
Watch a game while in town and eat the traditional baseball game meals served here. When the field is not used for a game, there is a Fun Zone for children to play in.
Have Fun at Play For All Park
Round Rock, TX 78664 151 N A.W. Grimes Boulevard (512) 218-5540
Play For All Park is a 51,000-square-foot accessible playground for children with special needs. This one-of-a-kind playground features many activities that can help your children develop various abilities.
A scooter, bike speedway, training pod, treehouse, zip line, and other attractions are available. Stop by this park and let your kids run around. One of the best things to do in Round Rock with kids is to play at this enormous playground.
Shop Round Rock Premium Outlets
(512) 863-6688 4401 N Interstate 35 Round Rock, TX 78664
Round Rock Premium Outlets is a 430,000-square-foot shopping center with approximately 125 businesses. Looking for the finest bargains on your favorite brands is a must-do for fun things in Round Rock, and you can do it from this outlet mall. Adidas, American Eagle, Disney Outlet, and other brands will be available. A few luxury labels are also present, such as Coach and Kate Spade. Choose from the many snack shops and eateries to refill your energy levels during your shopping day.
There are designer, name-brand, and locally-owned stores. It also houses eateries and a movie theater. Before you go, check out their website to see what specials they offer now. Eating tasty snacks is a great indoor activity when it's raining, freezing, or sleepy.
Exercise at Old Settlers Park
(512) 218-5540 3300 E Palm Valley Boulevard Round Rock, TX 78665
One of the most popular activities in Round Rock is sports. Old Settlers Park is a great spot to put your athletic abilities to the test. They host every sport imaginable, from cricket to fishing to disc golf.
Old Settlers Park, a 640-acre city park with open areas and sports amenities, is in Round Rock. A lovely stroll across beautiful, spacious grounds with a crystal clear lake and towering trees is a fun addition to Round Rock's free things to do. This area is ideal for unwinding after a day of exploring around town. Bring your favorite sports equipment because the park has several sports facilities, including cricket, volleyball, disc golf, tennis, and more.
There are also traditional sports such as football, basketball, and volleyball. The park is 645 acres in size and can accommodate most sports. It's a popular location and is regarded as the nicest park in the city!
It's also a family-friendly park with seven beautiful playgrounds for your children to enjoy. The park can be used for various outdoor activities and hosts many sporting events across Texas.
Swim at Rock'N River Family Aquatic Center
(512) 218-5540 3300 E Palm Valley Blvd Round Rock, TX 78665
The 150,000-square-foot Rock'n River Family Aquatic Center is located within Old Settlers Park. This waterpark's activities, such as a lazy winding river, insane water slides, and shallow pool playgrounds, place it among the most significant selections for fun attractions in Round Rock. It's unquestionably the place to unwind and spend time with the entire family. Are you up for the task? Climb the park's granite wall and jump from its 12-foot platform into the pool's refreshing waters.
This waterpark dedicates its amenities and attractions to all youngsters visiting it. They include calm starter pools for younger children and wild, exhilarating slides for larger children.
To ensure your children's safety, they distribute colored wristbands based on their height. They also require swim exams in certain regions, which can be a little more complicated.
The Buckaroo Pond is suitable for young children. The Lookout waterslides are ideal for thrill enthusiasts. Some people prefer the lazy river, while others enjoy climbing the waterfall wall.
Watch the Bats in Round Rock
(800) 436-8696; 601 North Interstate 35 Frontage Road & E McNeil Road Round Rock, TX 78664
Round Rock's Bats in Round Rock is a tourist attraction that exhibits Mexican free-tailed bats. Seeing bats fly out to capture insects is becoming a major attraction and is undoubtedly one of the most unusual things to witness in Red Rock. After all, it's not every day that you get to see a swarm of bats fluttering around. Park near the McNeil Overpass Bridge and arrive here before dusk. It's the peak season for bats to emerge from beneath the bridge.
You don't like bats? Don't dismiss anything until you've given it a shot. This spectacular scene is only available from March to November.
Half a million free-tailed bats fly across the bridge every night during the summer. It's a magnificent sight, and many people come prepared with blankets and chairs.
In Austin, there is the South Congress Bridge Bats to contend with, but both are incredible. Stop visiting during the summer to witness the feeding frenzy of these bats.
Relax at Memorial Park
(512) 218-5540; 600 N Lee Street Round Rock, TX 78664
Memorial Park is a key neighborhood park of 14.11 acres, notable for its spacious grounds and watercourse. If you want to unwind, taking in some fresh air while strolling through this park is one of the simple, inexpensive things to do nearby.
There are benches under oak trees for you to rest on and ducks to feed on the creek. Look for the various historical items in the park, including a commemorative WWII torpedo, to add a little history to your vacation.
Memorial Park is your natural hideaway in Round Rock. The park is an excellent place to picnic, hike, or look for the round rock of Brushy Creek. This is the location of the trail leading to Round Rock. There's also a softball field, a playground, and a World War II torpedo.
It can be a pleasant, calm day with a view of the creek and trees.
Visit St. William Catholic Church
(512) 255-4473; 620 Round Rock W Drive Round Rock, TX 78681
St. William Catholic Church is a lovely Roman Catholic church in the city. When it comes to places to visit today for peaceful thought, this church and its grounds are ideal. The environment is peaceful, and the well-kept gardens are lovely to look at.
Furthermore, architecture enthusiasts will enjoy examining the church's sophisticated interior design. Bring your camera and photograph the church from the exterior. Its old-world charm makes for lovely backdrops for your vacation photos.
Hike the Chisholm Trail Crossing Park
(512) 218-5540; 500 Chisholm Trail Road Round Rock, TX 78681
The 1.51-acre Chisholm Trail Crossing Park features a 1-mile walking trail. This lovely park near downtown is ideal for a quick break from the hustle and bustle of the city. This weekend, it offers some of the most magnificent sites, including a boardwalk that winds through a canopy of trees and a tiny waterfall. Follow the short walking circuit around the park to see all of the statues and educational signs.
Read at Round Rock Public Library
(512) 218-7000;  216 E Main Street Round Rock, TX 78664
Round Rock Public Library is a community library located in the middle of downtown Round Rock. The numerous book options are excellent reasons for you and your young readers to visit this library during your stay. Reading to pass the time is always a good option if you and your children are bookworms. If you want a brief break from your exciting activities around town, go to the library and peruse the shelves. Choose a book and find a quiet area to unwind.
Take a Break at Kawaii's
(512) 388-3050; 113 N Mays Street Round Rock, TX 78664
Kawaii's is a shaved ice store known in the area for its soft, fluffy servings. Eating flavored shaved ice is an excellent way to cool down, and Round Rock residents adore suggesting this shop for its many kinds. You may even eat it at any time of day, and having shaved ice here at night is one of the most popular things to do in Red Rock. To truly appreciate why this shaved ice store is so famous, try some of the local favorites like Maui-Wowie and Jamaican Me Crazy.
The Round Rock at Brushy Creek Crossing
(512) 218-5540; E of Chisholm Trail Road, Round Rock, TX 78681
THE ROUND ROCK AT BRUSHY CREEK CROSSING is a tourist landmark that showcases the city's history. Because of its historical significance, the center of this stream is one of the best spots to visit in Round Rock. The town gets its name from a massive, slightly circular rock smack dab in the middle of the ocean. To see this iconic rock, go on the Chisholm Trail to the center of Brushy Creek.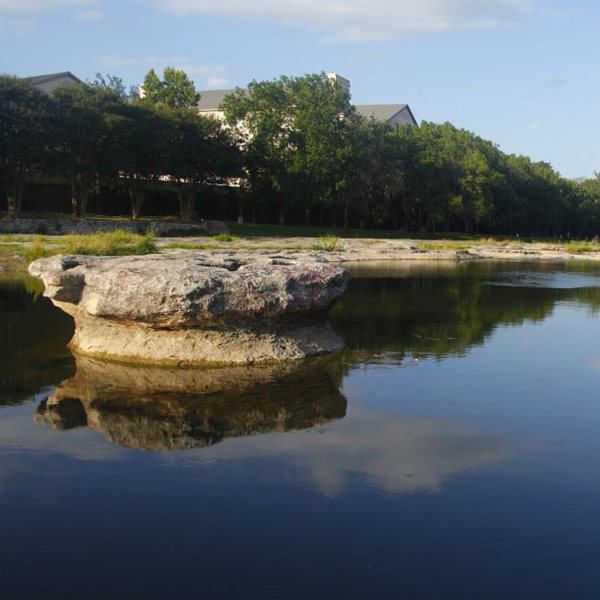 You may have guessed it already, but the city gets its name from a circular rock. Brushy Creek is home to the table-shaped rock.
It was once utilized as a wagons, horses, and cattle market. The Brushy Creek Regional Trail will lead you to the iconic rock.
Bass Pro Shops Outdoor World
(512) 876-2700; 200 Bass Pro Drive Round Rock, TX 78665
The Bass Pro Shops Outdoor World is a fantastic wilderness-themed athletic and outdoor goods store. There are numerous fun outdoor activity sites in Round Rock; if you didn't bring your gear, you could always acquire it from this shop.
Aside from being well-stocked, their innovative indoor designs will leave you speechless. Bring your camera since you'll want to photograph the many great areas inside the store. They even have an aquarium that appears to be natural. You can also enjoy bowling in their alley or archery in their range.
Home Run Dugout
(512)-238-2288; 3400 E Palm Valley Boulevard Round Rock, TX 78665
Home Run Dugout, located in Dell Diamond, is a sports-themed entertainment facility. What happens when a classic baseball game is combined with cutting-edge technology? The sophisticated, digital batting bays at this arena where you may hit balls and feel like you're in a real-life stadium.
Don't just go to the batting cages and have a cool drink and snack from the bar. There will be specialty cocktails, craft beers, wines, and non-alcoholic beverages. And the meals will be gourmet versions of stadium favorites.
Relax at Centennial Plaza
(512) 218-5540; 301 W Bagdad Avenue Round Rock, TX 78664
Centennial Plaza is a downtown plaza close to the Baca Center and the McConnico Building. If you're searching for a spot to relax and unwind after a day of sightseeing, this plaza is the place to be.
You can relax on the lawn, walk around the grounds, or watch the bats emerge from the observation platform. You might even catch a special light show or concert while you're here if you're lucky. Take a stroll around the square. Because of its clean and gorgeous vistas, it is one of the most romantic things to do in Round Rock for couples.
Walk Around Downtown Round Rock
78664 Round Rock, Texas
Downtown Round Rock is a walking neighborhood noted for its shops and restaurants. Walking around the district is the greatest way to see all of the downtown attractions. This is the place to be if you're looking for fashionable restaurants and shopping.
During your stroll, you might even hear free live music. Spend the evening with your pals downtown. There are numerous pubs, lounges, and bars where you can spend the night.
Koughan Memorial Water Tower Park
(512) 218-5540; 200 Round Rock Avenue Round Rock, TX 78664
The Koughan Memorial Water Tower Park is a park near downtown that holds the ancient water tower of the town. Taking photos of the town's water power is one of the greatest things to do in Round Rock, TX, because it is an iconic monument that will look excellent in your holiday photos. When in town during Christmas, go to the park after dark to see the tower illuminated by Christmas lights.
Map of Round Rock Attractions
March And Celebration in Remembrance of Martin Luther King Jr
The Round Rock Black History Organization hosts the Annual Dr. Martin Luther King Jr. Holiday Celebration, with participation from the Round Rock Independent School District and sponsorship from the First Baptist Church of Round Rock.
This is the way of the Round Rock Black History organization.
A presentation followed the commemoration walk at the First Baptist Church of Round Rock, located at 306 Round Rock Ave in Round Rock. The trek is weather dependent.
The memorial walk starts at the City of Round Rock McConico Building, located at 301 W. Bagdad Ave. Supporters and marchers will gather at 1 p.m. and begin the march at 1:30 p.m. The march will run for around 15 minutes and conclude at First Baptist Church.
The general public is welcome to join by walking, bringing banners, and attending the program. Attendance is free and open to the public. Round Rock Nissan, Wag A Bag, Henna Chevrolet, and 3M Company are among the corporate sponsors. St. Paul A.M.E., First Baptist Church, Good Hope Missionary Baptist Church, One Way Baptist Church, Sweet Home Baptist Church, Bahai' Faith of Round Rock, and Round Rock Public Library are among the non-corporate donors.